Commercial Services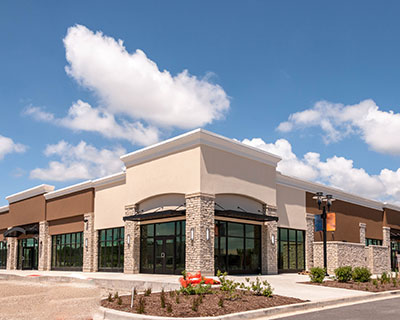 Capel Masonry & Concrete has been serving the Greater Charlotte area for a number of years. We have handled projects for clients in Davidson, Charlotte, and Mooresville. A significant number of businesses trust only us for all their hardscaping installation requirements. We have successfully completed hardscape installations on commercial properties in Huntsville, and Cornelius, and have catered to clients needing similar services in Concord and Kannapolis as well. The ranges of commercial services we offer include:
Slabs and Footings
Slabs and footings are integral features of all commercial properties. These are installed to enhance the integrity and strength of the landscape. Installing poured concrete slabs & footings is an expert's job and we have the skill, experience, and resources to handle it well. The slabs that we plan and install, will provide the stability needed for the structures on your property. We also construct footings using the best quality concrete. The high-grade mesh will be used as reinforcement and control joints will be installed at strategic points in the slabs to improve the resilience of the feature.
Sidewalks and Curbs
Installing custom designed sidewalks and curbs is one of the best ways to support a road or newly-installed parking lot. Not only do they enhance the attractiveness of your property, but they also create a safe space for pedestrians to walk on. This is a specialized job and we have the engineering expertise and experience to handle even the most complex curb and sidewalk installations for our clients. In most instances, these jobs are handled as a single project, but if you need just either of these features installed on your property, we can handle those jobs too.
Poured Walls
Poured concrete walls have very clean lines and smooth surfaces. These walls could be built in any area of your property. They could be installed as retaining walls to prevent soil erosion and to provide stability to the soil. We also handle garden and boundary wall projects for commercial clients. The best mixes and the latest technology goes into the work, ensuring resilient and durable poured concrete features that will last for a number of years, with the least amount of trouble.
If you are looking for a company for any hardscaping requirements, Capel Masonry & Concrete is the company to call. Our team ensures uncompromising quality and excellent customer service. You can speak with our experts at this number- 704-690-5797 and discuss your project with them. You also have the option to send us your requests and inquiries about hardscaping cost via this online form .